To be even and composed even under stress―
The steady teapot represents the courage to face and overcome adversity without retreating;the unrestrained ocean of sea symbolizes
the attitude of being balanced and clam when dealing with problems or pressure.
When you are in a difficult position, try to handle the situation with calmness and equanimity.
Allow the refreshing fragrance of a cup of tea to bring you evenness of mind; with the spirit of never giving up, everything will end up perfectly.
Material:Pottery
Package: Brocade Box
10 piece set (
SKU / PT-PRF2122DG:
Dimension:
 39 x 21 x 11 cm / 
G.W.:
±1320g
Capacity:
pot/230 cc、
serving pot
/160
 cc、cup/55 cc
N.W.:teapot /±200g、serving pot  /±140g、cup /±40g、cup saucer /±25g
Size:
teapot /
 ±Ø7.2 x 11.6 x 10.2 cm
、
serving pot
 / 
±Ø7.6 x 7.3 x 8.8cm
cup / ±Ø4.8 x 5.2 cm、saucer /±Ø6 x 6x1.1 cm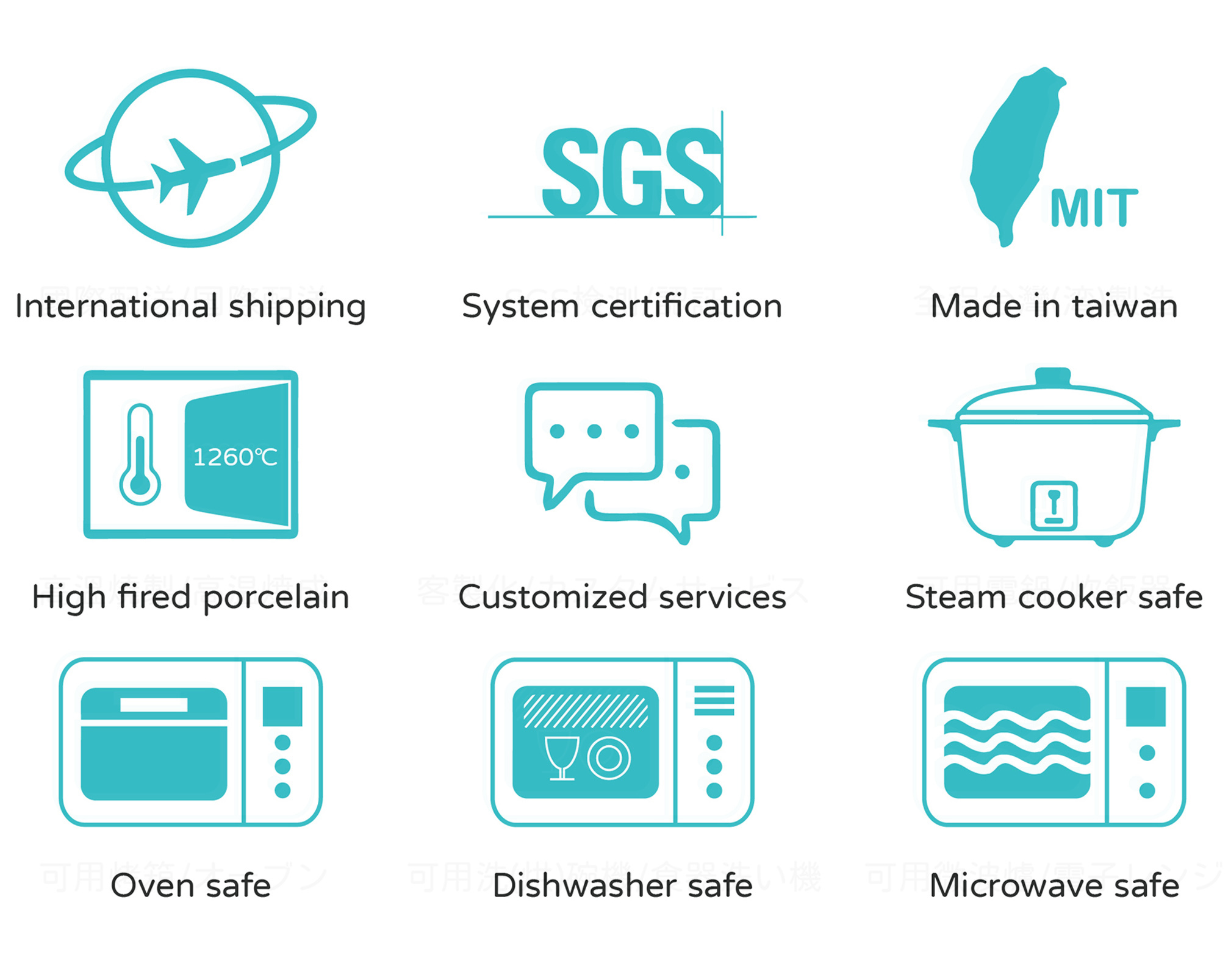 [ Instructions ]
Our products were fired at 1260 Celsius and passed SGS inspection which means it is free from lead and chromium. 
Porcelain products could be heated with oven, cooker and microwave. 
Dishwashers and dish dryers could also be applied.
Clay products carry higher porosity and could absorb color and scents easily. 
Please clean regularly and do not fill with mixed content.
Products may crack caused by instant heating or defrosting after freezing under low temperature. 
Please handle with caution.
[ Methods of maintenance ]
Wash immediately after use with sponge, soft cloth or soft detergent to avoid scratching the glaze.
Please apply hot water and baking soda to remove tough stain.
Products with gold trace might grow into deeper color due to vulcanization. 
Gently scrub it with dry cloth to remove it.